POSTS
COA Study Guide Instant Download
What Makes This Study Guide Different
There are a couple major books to study for the COA (certified ophthalmic assistant) exam.   Each of these books are 200-300 pages. They are geared for understanding ophthalmology in general, not toward passing the COA.
Their material was:
Expensive.

Low-Yield. (A lot of material not specific to the the exam)

Too Long
This is where the  Study for the COA Exam eBook is different. Features:
High-Yield. Study for the COA is 70 pages of concise exam material. No extra fluff.

Concept checklist. Study for the COA includes checklists to preview and review material.

Memorization tricks.

Inexpensive. I thought that it was crazy to spend over $50 for each of the materials I used, but I did not have any other options. This eBook is affordable.

Instant download. You don't have to wait for your book to come in the mail. This eBook is a PDF that can be downloaded instantly. You can study on your computer or print it out at home.
Product Break Down
Practice Test
$ 12.95
Instant Download
200+ Multiple Choice Questions
Book Only
$15.95
Instant Download
70+ Pages Of Exam Review
High-Yeild Material
Concept Checklist
BONUS: Reveiw of Ocular Diseases
COA Study Guide 3rd Edition
$19.95
Most Popular
Instant Download
70+ Pages Of Exam Review
High-Yeild Material
Concept Checklist
BONUS: Reveiw of Ocular Diseases
250+ Multiple Choice Questions
Testimonials
"Hi Alex, I recently purchased your COA study guide. Prior to purchasing it, I had purchased every book and online study guide known to man. I made myself exhausted and and at the end of the day I was just overwhelmed. With literally five days before I was to take my test, I purchased your study guide. It is awesome!!! It was staight to the point with no goobledygook like all the other study guides. Fast forward to today. I passed my test!!! Thank you so much!!!! This is the perfect study guide!!! I would purchase it all over again and I will definitely tell others!! Please get started on your COT so that i can purchase that one next year at this time!!!"
- April
"Hi Alex…. I wanted to thank you for creating a study guide for us technicians. It was a big help and i just wanted to let you know that I passed my COA today. I barely looked at the ophthalmic assistant book. I used your study guide more as a reference and it was very helpful! Thank you again!"
- Monique
"I really appreciate the time you took to make this, this is amazing! I take my test tomorrow, i wish i would of known about this sooner though! It is laid out really nicely"
- Rachel
"Alex thank you for such a good guide. I passed my COA with flying colors."
- Lizette
Download the first 6 chapters of the NEW 3rd Edition COA Study Guide for Free.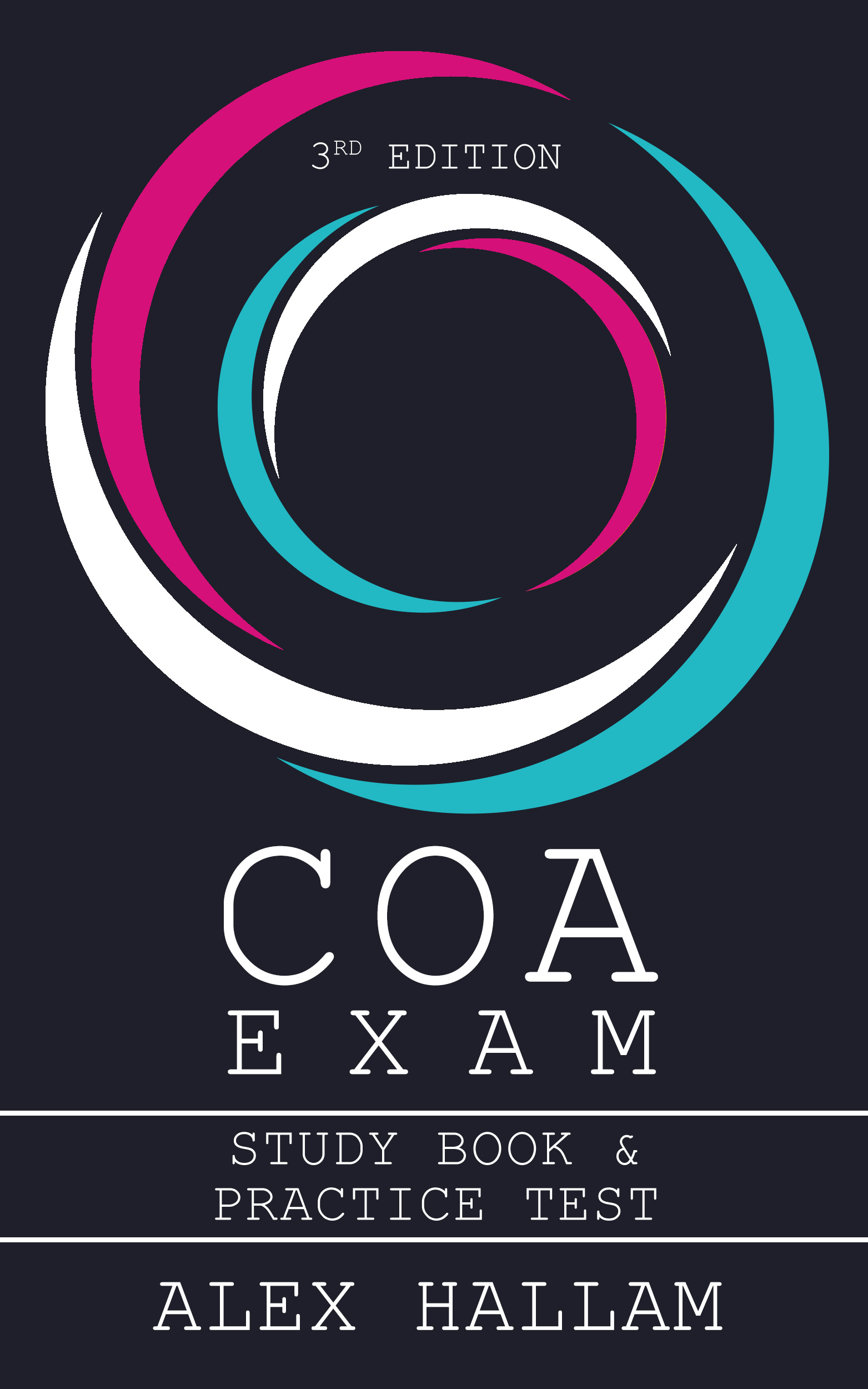 Practice Test
Here is a break down the products:
This is for anyone who is on a tight budget. This is the 200+ multiple choice questions only.
Study for the COA Study Guide (No Practice Test)
This is 70 pages of pure, concentrated, study material. It includes concept checklists and memorization tricks
Study for the COA Study Guide 
This is the the exact same as the book above, but with 200+ multiple choice questions included. This is for those who want to maximize their study experience and improve their score.
If you decide you're not 100% satisfied within the first 30 days of your purchase I will give you your money back. This is a no risk money back guarantee.